Project at KTH Royal Institute of Technology
2021, Remote






A venture proposal that connects museums and galleries to their visitors beyond a single visit in order to save them.

With collectable and beautifully designed NFC tokens for visitors, bridging online and offline experiences in an accompanying digital platform that keeps imbuing the tokens with value beyond their material experiences.


Responsibility
Iterated throughout the entire product design cycle remotely, utilised different design methods, and designed the app prototype while contributing to aligning features with the business model.

Tools
Figma, Miro, Notion, Product Hunt, Qualitative Research

Group Members
Jason Huang, Gonzalo Uceda Castro, Christoph Johns, Fran Grgić & Fanni Karvinen
App Prototype
Jason Huang
Tokens Design
Gonzalo Uceda Castro
Pitch Deck
Christoph Johns
Video Editing
Fran Grgić



Process
---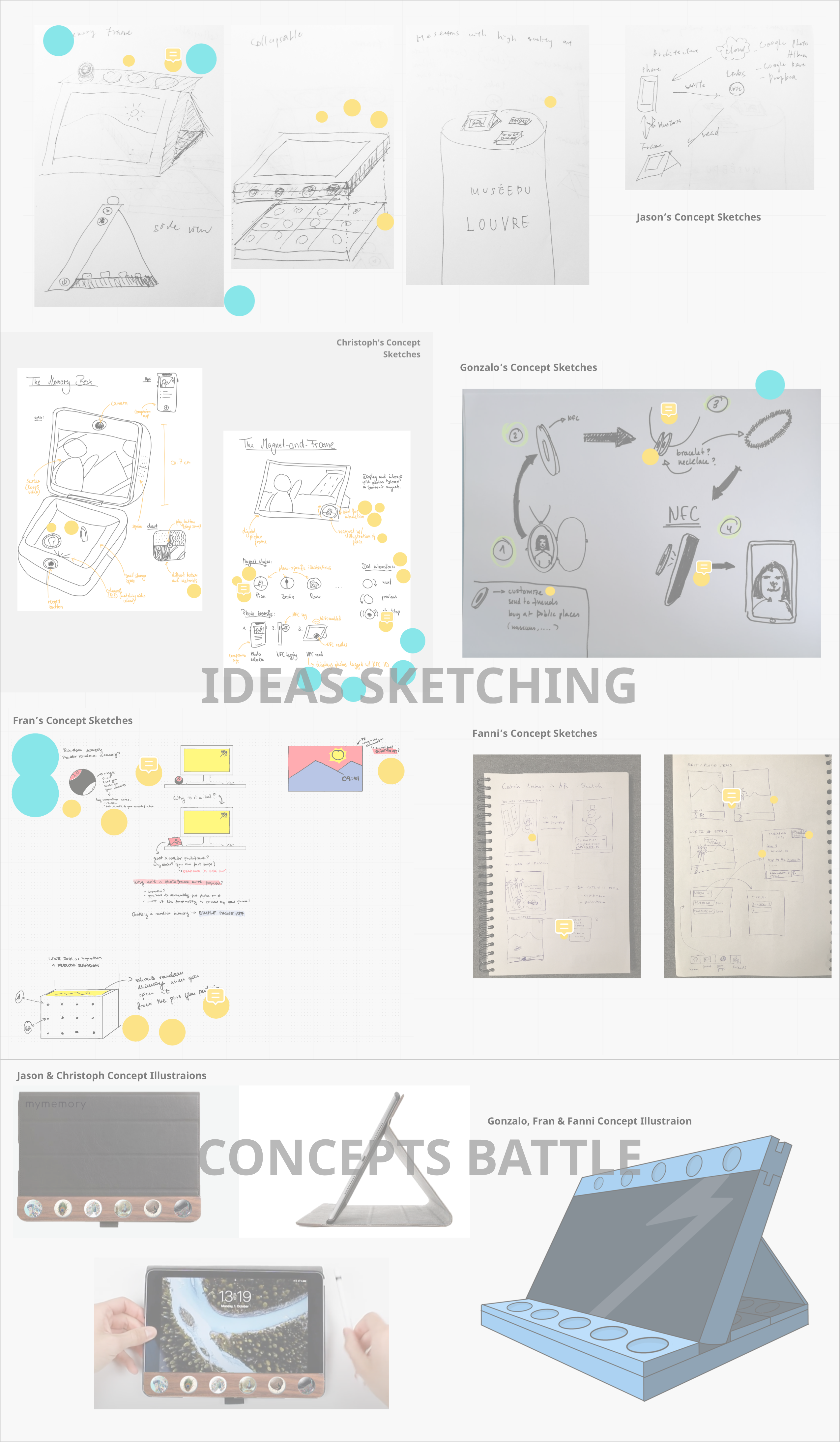 By going through the Double Diamond design process, we brainstormed for directions then interviewed people for the discovery phase, then utilised the Affinity Diagram and How Might We questions to define insights and opportunities. As a result, our intention was:
HMW change the way young people display souvenirs without them having to carry all of them whenever they move to a new place?

Afterwards, we started with the Worst Possible Ideas, and then other methods like the Random Picture, Lightning Demos, Crazy Eights, and Sketches to develop our solutions. Finally, we had a Concepts Battle with higher fidelity to gather feedback again and to start the delivery phase.



Problem
---
After gathering more feedback from potential users and suggestions from the supervisor, we started to revolve around and restructure our core concept and features. We found that proposing a product with too many fresh ideas seems difficult to grasp, and that felt like a reminder of the affordance factor in design practices. Nevertheless, iteration like this is always common in innovation, being open to critique and not obsessed with what we had created were the key to making something interesting and usable.



Solution
---


Based on the core concept of tokens and restructuring our idea, we started small with this focus and grew towards having arts as souvenirs. We also came up with interesting digital services that our team is better at, and the improved feedback from our circles moved the solution into the delivery phase. Below are some key features that I tried to present in the prototype, and while it is more focused on the visitors' side, it also shows how some features for museums would be for visitors.



Visitors
Explore museums and exhibitions

Access exclusive "member" content and events

Interact with exhibitions

Experience art in a digital and playful way

Collect tokens with artworks as souvenirs or gifts
Museums
Promote museums and exhibitions

Connect with supporters for fundraising and awareness campaigns

Enable innovative digital experiences for visitors

Access advanced analytics about visitors and their interests

Reflection
---
Although we tried to evaluate our project by launching Product Hunt and email campaign, we did not receive as many responses and replies as expected. This provided very direct feedback that marketing is quite different on different platforms, and hence the afterthought is that instead of going live on a technology-oriented platform like Product Hunt, we should gather more feedback from artists, museums, galleries, and related platforms.



---