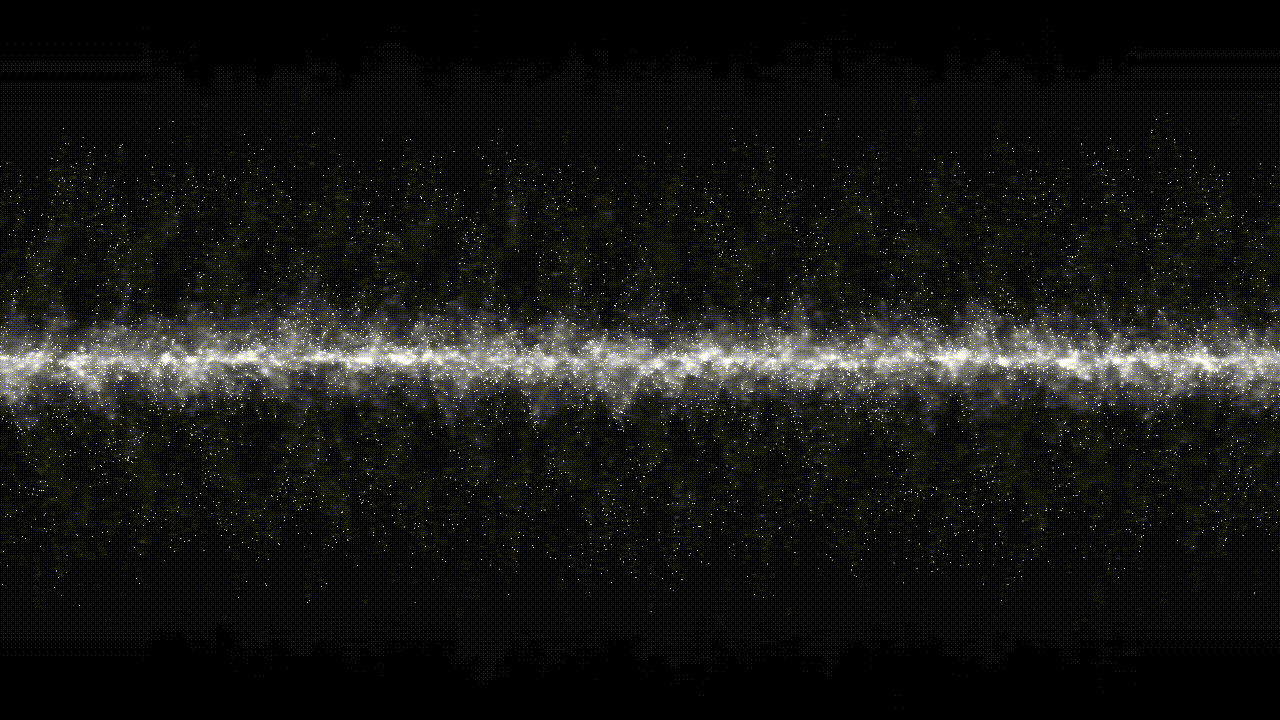 The interaction system will be connected to the generative audiovisual system. Whenever a viewer is detected, it will use a ripple-like visual with bass-like sound to guide the viewer into the exhibition space. The more people in the exhibition space, the more complex the audiovisual effects will be, showing the anxiety of psychological entropy. The particles in the visual will be increased in their velocity and fluctuations, while the effects of the sound will be increased in their noise, volume, and tempo.
Conversely, the fewer people in the exhibition space, the more peaceful the audiovisual effects get, showing the flow state of being alone with calm.
As the work interacts with the number of people in the exhibition space, it also creates a simulated experience of the uncontrollability of life.
With the explosion of information, modern people have more choices, but they also have more worries. Technological progress has shortened the distance between people, so seeking others for solace has become readily available, but people feel anxious when they are alone and lack the ability to achieve peace of mind.
Through the abstract generative audio and visual, let viewers bring in their emotions, to reflect or enter the flow state. With the interaction system, correspond the number of viewers in the space to the complexity of audiovisual effects, to make viewers as a part of the work.
It displays the psychological entropy created by the environment and the ambiguities of life, utilising the space with a circular display to create an immersive experience that allows viewers to regain peace of mind.
concept
According to American psychologist Mihaly Csikszentmihalyi, "flow" is a state of concentration or complete absorption with the activity at hand and the situation. The feeling of being utterly involved in an activity makes people forget the passage of time, and they will be more energetic, joyful, and contented after completion.
But with the ambiguities of life, people get worried and unable to concentrate. Csikszentmihalyi defines this kind of conscious chaos as "psychological entropy". The more trouble a person has, the less attention he pays, preventing him from reaching the flow state.
However, Csikszentmihalyi also mentioned that the flow state has pros and cons like other experiences. Although it brings a fulfilling order to life, if a person becomes captive of a certain kind of order, it will be difficult for him to cope with the ambiguities of life.
responsibility
Partnered with interior design company Sky Eye League for the proposal for the National Taiwan Museum of Fine Arts. Formed the concept with advice from the company director, designed interaction mechanism along with visual and sound direction, and supported ongoing development. Led the cross-organisational team, and managed feedback from different parties.
technology
TouchDesigner, RFID
credits
Concept & Creative Direction
Jason Huang & Jack Dai
Visual & Sound Direction
Jason Huang
Interaction Design
Jason Huang
Sound Design
Gabriel Chowl
Development
Phantasy Wu & Jason Huang (Adjustments)
Proposal Partner
S
ky Eye League